Discover how we bolstered the resilience of a prominent UK utility with a dependable satellite connectivity monitoring link. By deploying a private TSAT HUB at the control centre, the client achieved continuous connectivity between the hub site and remote location, supporting RS232 and IP communications. Here at MMX, our commitment to empowering the utility sector remains unwavering!
Requirement
A leading UK utility had a requirement to monitor a number of remote electricity substations where there were no reliable communication services such as PSTN, ADSL or mobile. The customer required a communications solution that could be installed using satellite connectivity to ensure a reliable and robust monitoring link within the harsh environment.
Solution
MMX designed and developed a TSAT Satellite Network to connect to the utility infrastructure, allowing constant reporting from the remote sites. It was essential that the chosen hardware was compatible with the chosen SCADA RTUs that had been installed on each site. This customer used serial-based connectivity and required secure private connectivity that would also generate alarms in the event of a failure and provide suitable monitoring of the network.
"We understand how critical it is to have resilient communication networks operating in harsh environments. We are proud to have successfully delivered this private TSAT satellite system, providing our clients with the robust connectivity they need."

Kay Barber, Satellite Specialist at MMX
The TSAT VSAT satellite system is a low bandwidth satellite communications system specifically designed to meet the demanding requirements of the SCADA and utility industries. TSAT provides a private satellite network operating a direct communication channel between a process control centre and remote locations. By locating a private TSAT HUB at a control centre, complete independence of any public infrastructure is obtained, and secure and reliable communication is assured. Reliability can be enhanced further with implementation of the load-sharing redundant HUB option. The TSAT system provides an always-on connection from the hub site to the remote site and supports both RS232 and IP communications.
Features of the TSAT VSAT satellite system
Providing systems since the mid-1990s
Wealth of experience in telemetry/ SCADA over satellite
Secure closed private network
Satellite bandwidth efficient – fix your communication charges
Lowest cost VSAT Hub on the market
Modular and scalable to meet expanding network requirements
Data rates supported from 16kbps to 250kbps
Designed to manage multiple applications via low bandwidth satellite channel – keeping OPEX under control
Application Protocol Independent
Supports TCP/ IP as well as RS232 applications including legacy multi-drop applications
Enhanced security – 256 AES Encryption
Results
Application connectivity/versatility
The diagram below depicts how the Private TSAT Satellite System has been used to provide communications from multiple SCADA remote sites and a SCADA host system.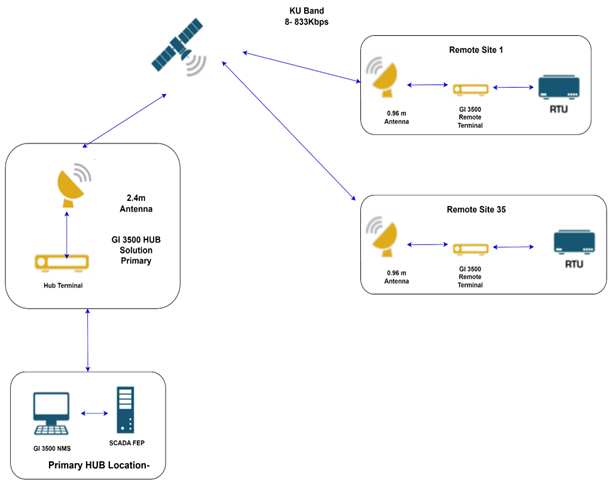 System scalability
The low-cost HUB and space segment makes it possible to initially install a small network, and expand with requirements for example, network size and data demands.
The HUB can easily be expanded allowing additional communication channels to be added in either inbound or outbound directions. Combinations of these channels can be configured to provide the optimum solution e.g. small outbound channels and larger inbound channels.
SCADA communication compliance
TSAT is compatible with legacy SCADA protocols and systems as well as modern TCP/IP based protocols, allowing a smooth transition as SCADA networks are modernised and updated to meet new legislation specifications.
Security
The TSAT system is a private network architecture and does not use any public infrastructure connectivity such as the Internet. The RF channels utilised by the TSAT network can be encrypted using AES 256, ensuring that the customer application data is secure over the transmission path.
The network was installed in 2019 and has been operational since this date. The network has also grown in numbers and protocols utilised as MMX is continuing to support the customer as technology advances.
More information
If you'd like to get a reliable and robust satellite comms network that's tailored to your needs, we'd love to hear from you.