In the past week, the team here at MMX held a fun-filled fundraising day for Children in Need! The team put in a great effort for a fund-raising fancy dress, check out our group picture (click to enlarge):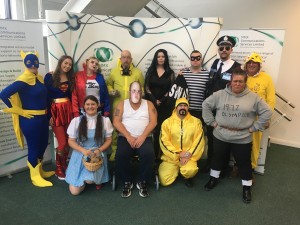 We also held an office quiz which ended up with a draw that had to be settled with a tie breaker. In addition, the team got involved in the BBC Children in Need Duck Race Sweepstake. Here we chose a name of a rubber duck from a hat and watched the duck race live on TV to see who swam into 1st place!
We had a great day in the office and of course, all for a great cause. We are now looking forward to our next fund-raising event, which is our annual Christmas Raffle, to support a local charity.
We're very proud to have raised a total of £300 for this amazing charity.
Children in Need support over 3,000 local UK charities by providing grants for projects that focus on children and young people who are disadvantaged. The Charity's vision is that every child in the UK has a childhood which is safe, happy, secure and allows them the chance to reach their potential.
To find out how to get involved in the fundraising yourself, head to the Children in Need website.