We're delighted to introduce you to Laura Chambers, an inquisitive and dedicated member of our field services team. Get ready to explore her journey and gain fresh insights into what makes our MMX family truly exceptional.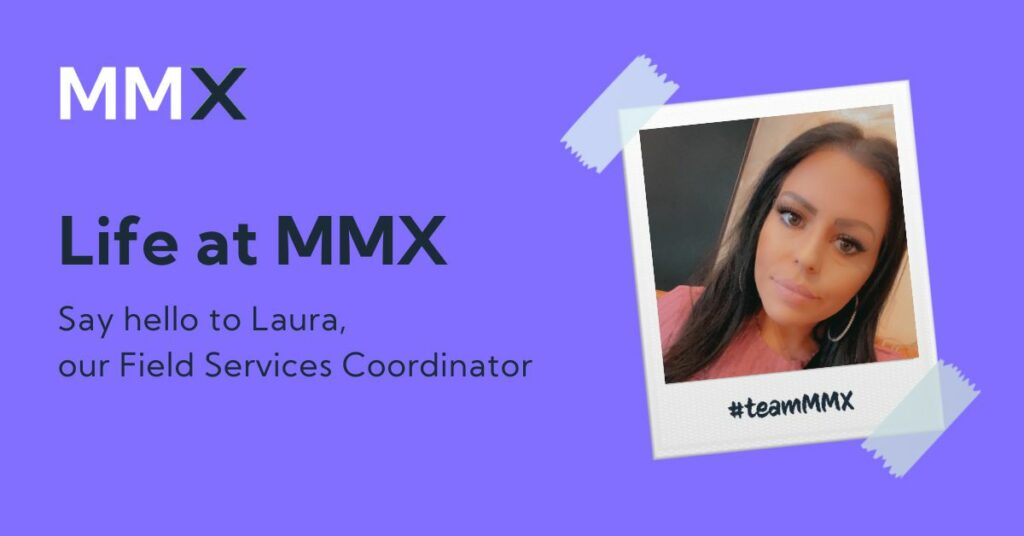 Let's dive into Laura's MMX journey & insights
When did you join MMX and have you always wanted to work in field services?
I joined MMX on 20th June 2022 after working in financial services previously. I had a wide variety of transferable skills to bring to the role as a Field Services Administrator and I loved the idea of going into a whole new sector of business, learning all about telecommunications and field services which was completely new to me.
Can you describe your typical week?
My typical week involves a variety of tasks – administrative duties like handling overtime, expenses, timesheets, and ensuring engineer certifications are up to date. I also help with the planning and scheduling of upcoming work, which includes coordinating site access, permits, logistics, assigning engineers, and having customer interactions. Additionally, I handle financial requests such as processing invoice requests and any other items that come up that need attention.
How has your career progressed since working at MMX?
Since starting in June 2022, I have progressed from Field Services Administrator to Field Services Coordinator, taking on more duties and responsibilities as well as developing my knowledge and understanding of the business and the technical work that MMX does.
What do you like most about working at MMX?
Friendly, helpful, and professional environment – everyone helps and supports each other.
Every day is different, which keeps you busy and your mind focused.
Learning about the offshore industry and explaining my knowledge to others.
What is it that you love about what we do?
I love the fact that MMX and TXO are focused on the circular economy and sustainability, which is an important focus everywhere at the moment.
How do you keep up with new developments and advances in your field, and what areas of critical communications are you most interested in exploring further?
Although I have been with the company for nearly a year, I am still learning more and more every day about the field services industry and the technical side of the work that we do. I am part of a team where they have a wealth of knowledge and am guided by them completely. They are amazing at providing support and knowledge, so it is great to be part of a team where this is given – no question is a silly question!
Can you describe a particularly challenging task or problem you had to solve, and how you approached it?
We have just completed a program of work where we installed 7 links in the most remote and challenging locations. My planning and organisation skills were stretched and we had to come up with some out-of-the-box solutions – i.e. the use of ATVs and even a helicopter to get the teams to the top of a mountain.
What's one thing most people don't know about you?
Because of my dad, I am an Ozzy Osbourne and Black Sabbath fan.
What are your favourite flavour crisps?
Ready salted.
What would we most likely find you doing on the weekend?
Spending time with family and friends, socialising and most likely with a gin in my hand 😊
Which of our brand values resonates with you the most? And why?
Trusted, by our colleagues, customers, shareholders, suppliers and ourselves.
MMX is a great place to work, you can truly rely on others for help and support, at all levels, as well as developing working relationships and friendships.
Working in the field services industry, we are really focused on delivering the best to our customers whilst also upholding MMX's reputation to the highest level. In doing this, we build up customer relationships and ensure that work is top quality – both from the office-based organisation to the engineers in the field.
Our engineers are the face of the work we do, they are professional, hard workers and extremely knowledgeable – often guiding the customers on the best approach to take within the scope of work we are completing. This is further supported by the positive feedback we receive from customers, thanking us for their work. In turn, developing trusted relationships with customers ensures they will want us to work for them again and vice versa.
What's your funniest MMX memory?
IT Stuart regularly shouting at magpies to get off of his car.
Thanks, Laura. Your passion and thirst for knowledge really come across. Keep asking questions, we love that!
If there's anything else you'd like to discover about Laura's Life at MMX, please feel free to reach out to us. We're excited to hear your questions. Alternatively, explore the rest of our Life at MMX interviews to get to know more people in our fantastic team.