We're excited to begin a new series of Q&As (called Life at MMX) where we'll be highlighting some of the amazing people who make our organisation a success. With each one, you'll get a glimpse into what it's like to work here and find out more about us on a personal level.
Today, we're joined by Kay Barber, who is a Satellite Specialist and an integral part of our team. She has a wealth of knowledge and experience to share.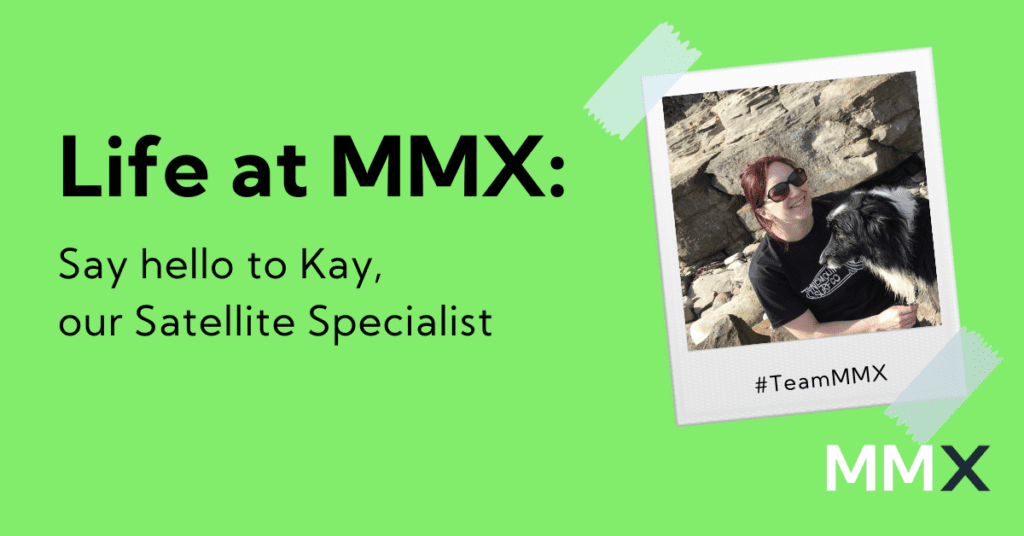 So, without further ado, here's our first question
When did you join MMX and have you always wanted to work in engineering?
I have been working with MMX since January 2022. I have had an interest in breaking, building and fixing anything electrical and mechanical since I was a child, so a career in engineering was the obvious path for me.
What does a typical day look like in your role?
A typical day will start by catching up with the technical team and understanding what projects they are working on and if they require any assistance. Then I will touch base with the sales team and often attend customer calls to help design satellite solutions for problems they are experiencing. When in the office I will provide some training on new products and services that can enhance the company portfolio.
What do you like most about working at MMX?
The team. It's great to work with such an enthusiastic group of people.
The range of customers in the different industries we serve.
The opportunity to help in growing a new avenue for the business.
What is it that you love about what we do?
I'd say it's that we're always providing our customers with the best communications solutions for their requirements, enabling them to fulfill their business processes.
How do you keep up with new developments and advances in your field, and what areas of critical communications are you most interested in exploring further?
I think when you have an interest in a topic, it is easy to stay informed and up-to-date. I follow a number of key people from Satellite Operators on Instagram and LinkedIn, as well as receiving newsletters from SpaceNews, Satellite Today and scientific organisations. One of the main elements of my role has been to make utilising satellite solutions easy for other industries, so understanding challenges within the utilities and oil and gas sectors is also essential to innovation and development within the satellite industry.
Can you describe a particularly challenging task or problem you had to solve, and how you approached it?
I love working on quirky projects the most – so the ones that no one would think of normally. Some of the most interesting ones include helping to create links onboard planes for 'chatrooms' for military operations, and alerting camera systems for poaching that can differentiate between animals and humans. In these examples, the satellite equipment had to be small and discrete, providing constant communications and run automatically (i.e. no human intervention). It was essential to form a partnership with the parties involved to understand the niche requirements and capabilities of the parts of the solution the satellite equipment had to integrate with. These types of projects require a lot of development, testing and sometimes trial and error, however, they are the most rewarding to complete.
If you were our Managing Director for the day, what one change would you bring about?
I would challenge the technical team to work in sales for a day and visa versa for the sales team.
What's one thing most people don't know about you?
I want to own and run a cattle farm.
What are your favourite flavour crisps?
Cheese and onion.
What would we most likely find you doing on the weekend?
If the weather permits – surfing, motorbike riding, long walks with my dogs.
Which of our brand values resonates with you the most? And why?
Dynamic, I love to be at the forefront of technology, developing new solutions and thinking outside of the box. Satellite technology has been evolving at a fast rate over recent years and is becoming more accessible to all industries. I want to help drive that further and meet the ever-changing requirements of our customers.
Last but not least, please tell us a bit about the dog in your photo!
Oscar! He is an Australian Sheperd x Collie. He is 13 years old, but still loves long walks, swimming in the sea and biscuits.
Thanks, Kay! It's been great getting to know you better
If you'd like to hear more about Kay's role with satellite technology and find the best fit for your communications requirements, please contact us. We'd love to pair you with the right solution.