Here at MMX, we love what we do. Whether you need us to install microwave radio (at a great height) or your offshore UHF/VHF radio system requires maintenance (perhaps out in the North Sea) you can be confident you've come to the right team!
Nothing comes before the health and safety of our people and those around us. For us this means putting people before profits, never cutting corners, and ALWAYS doing the right thing.
The varied nature of our work with critical communication systems means our engineering team faces potentially dangerous environments every day. But no matter where we're working, we always remain committed to creating the safest conditions. So no matter if your projects involve offshore and/or onshore working environments, there are plenty of reasons for you to trust working with us. Here are a few more…
We're independently audited & certified by ISO
Our ISO certifications are incredibly important – both to our organisation and to our customers. They ensure all our operations, products and services adhere to the highest international standards, and help support our culture of continuous improvement.
We have full IRATA membership status
We're incredibly proud of the time and energy that our team has put into achieving our full IRATA membership. Holding this specialist membership with IRATA (which stands for Industrial Rope Access Trade Association) certifies that MMX is a partner you can trust to carry out your telecom installation, commissioning and operational maintenance projects at height. Check out our IRATA membership certification.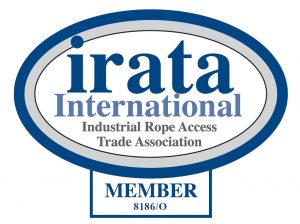 Buckets of specialist training come as standard
It's good to know that our team has the right knowledge and training to handle whatever your project involves. And should things ever go wrong, they also know how to deal with emergencies quickly and safely. That's why our entire team of field engineers receives the following training:
Tower climbing and rescue training, plus rooftop working courses
This allows us to assess the risks of working at heights with unprotected edges and to understand the correct climbing techniques to access these environments safely.
Light lifting and rigging courses
With this training, our field engineers learn how to assess, plan and carry out rigging and lifting operations in accordance with LOLER (Lifting Operations and Lifting Equipment Regulations).
Emergency first aid at height
Here our teams learn how to deal with minor injuries, casualty handling and resuscitation, specifically whilst at height.
Radio frequency awareness training
Our field team has all undergone radio frequency (RF) awareness training to learn about the effects of RF on the body and the means of identifying dangerous areas.
Extra training for those working offshore
In addition to the above, our offshore engineers require extensive further training due to the uniquely dangerous conditions of their working environment. This includes:
HUET training (Helicopter Underwater Escape Training)
Travelling to offshore sites can feature dangerous journeys by helicopter. It is therefore mandatory for our offshore team to undergo HUET training to learn helicopter escape procedures, particularly to evacuate ditched and/or capsized helicopters.
CA-EBS (Compressed Air Breathing System) training
Our offshore teams have relevant CA-EBS training to learn about the hazard and properties of the breathing system and how to conduct pre-flight hazard checks.
Offshore Safety Induction and Emergency Training
Our offshore team must undertake BOSIET training (Basic Offshore Safety Induction and Emergency Training).
Similarly, there is MIST training (Minimum Industry Safety Training) that provides all workers travelling offshore with basic safety awareness.
Our team also undergoes FOET training (Further Offshore Emergency Training) to practice and demonstrate more advanced emergency response skills.
Another bit of essential training for our offshore teams is how to use the DONUT offshore descent device. This allows them to escape from an offshore platform via the device attached to a handrail.
Our team also receives IPAF training in order to operate MEWPs (Mobile Elevating Work Platforms) safely.
In addition, our team is trained to Optio Rigger 3, which teaches the knowledge and practical skills to operate on rigs safely and effectively.
MMX internal training courses
If all that wasn't enough, our staff also go through numerous internal training courses which include:
Asbestos awareness
COSHH
Emergency spill kit
ESD
Electrical
General health and safety
Environmental
Information security
Manual handling
PPE
Having expert staff with up-to-date skills has paved the way for MMX's success over the years, and we're passionate about continuing to invest in our people.
For further information on our team's technical expertise, please don't hesitate to contact us.